According to the relative position and position changes of the two shafts to be connected, the coupling can be divided into
①Fixed coupling. It is mainly used in places where the two shafts require strict alignment and no relative displacement occurs during work. The structure is generally simple, easy to manufacture, and the instantaneous speed of the two shafts is the same. There are mainly flange couplings, sleeve couplings, clamps Shell coupling, etc.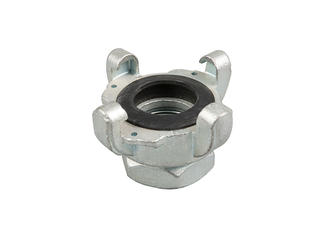 ② Movable coupling. It is mainly used in places where the two axes are skewed or there is relative displacement during work. According to the method of compensating for displacement, it can be divided into rigid movable coupling and elastic movable coupling. Rigid movable coupling uses the movable coupling formed between the working parts of the coupling to have a certain direction or several directions of activity to compensate, such as tooth coupling (allowing axial displacement), cross groove coupling coupling (used to connect two shafts with small parallel displacement or angular displacement), universal coupling (used where the two shafts have a large deflection angle or a large angular displacement during work), gear coupling (Comprehensive displacement is allowed), chain coupling (radial displacement is allowed), etc. The elastic movable coupling (referred to as elastic coupling) uses the elastic deformation of the elastic element to compensate for the deflection and displacement of the two shafts, and at the same time Elastic elements also have buffering and vibration damping properties, such as serpentine spring couplings, radial multi-layer leaf spring couplings, elastic ring pin couplings, nylon pin couplings, rubber sleeve couplings, etc. .
The failure of the electric locomotive is mostly due to the looseness of the coupling and the fit, and the small diameter of the keyway causes the damage of the electric locomotive coupling. In response to this situation, he changed the "V" type oil seal at the motor shaft end to an "O" type oil seal, increased the outer diameter of the coupling, increased the original diameter by 4mm, reduced the inner diameter, and changed the clearance fit to a transition fit. The improved coupling is twice as strong as the original
Ningbo Chili Hardware Co., Ltd.
 is a professional 
China Universal Couplings Manufacturers
 and 
Universal Couplings Factory
. our company located in Hangzhou Bay , Cixi city, Zhejiang Province. The traffic is very convenient,We are near to Ningbo and Shanghai port.Only 100 kilometers to Ningbo port and 120 kilometers to Shanghai port. Our products contain Camlock Coupling, Storz Coupling, Air Hose Couplings, Pin Lug Coupling, Combination Nipple, Universal Coupling, Whipcheck Safety Cable ,Bauer Coupling,Hose Clamp. The materials are mainly made of Stainless steel, Aluminium, Brass, Carbon steel,PP, Nylon.They are widely used in petro, chemical, mining, firefighting, agriculture and water conservancy industry. Because of good quality and reasonable price, our 
Wholesale Universal Couplings
 are exported to North America, Australia, Europe,South Africa,Southeast Asia and Middle East.