The core component of the diaphragm coupling can be divided into beam waist type, ring type, joint link type, spoke type and multi-place type according to the shape of the diaphragm. According to the working conditions of the coupling, we can summarize the force of the coupling into the following four, and give the planning methods of different types of force, taking the eight-hole waisted diaphragm as the research object.
(1) Bending stress caused by angular disassembly error. It can be solved according to the simplification of the figure below. Due to the theoretical error of disassembly in the angular direction of the axis, the diaphragm is periodically bent and deformed along the axis, and it is the main reason for determining the fatigue of the coupling diaphragm. According to the displacement of the bolt hole around the axis position, the radial displacement and the axial displacement movement are caused by the angular direction. The size of the restoring moment H can be obtained by the angle inclination. Generally, the angular displacement of the coupling diaphragm is very small, so the diaphragm deformation is a small deformation, which can be analyzed by the small deflection bending theory of thin plates.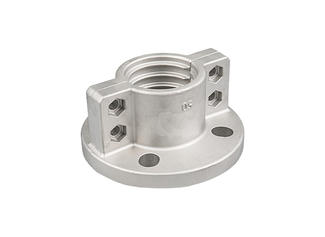 (2) Due to the error of axial disassembly, the diaphragm is bent and deformed along the axis. The displacement is loaded at the axial position of the local bolt hole, and the radial displacement and axial displacement are active. In the middle of the two ends at the two ends, the confinement is applied, and the local hole is used to bear the load. In this way, it is treated as a statically determinate simply supported mechanism.
(3) Centrifugal stress caused by inertia during high-speed winding. Assuming that the bolt and the coupling diaphragm are of the same material, the respective masses can be calculated, and the centrifugal force can be calculated according to the position and helix angle, and acts on the total center of mass. The centrifugal inertial force of the high-speed equipment is extremely important in the customized stress plan. The centrifugal inertial force can be loaded according to the radial force F=(2n/60)2rp, and the position is radially outward, and the radial displacement of the bolt hole at the movable place , circumferential displacement and axial displacement, no other loads around.
(4) Torque produces film stress. Let the transmitted torque be T (Nm), and the total number of pieces is m. For 8-hole bolts, it is known from the simplified conditions: the torque of a single diaphragm is T1=T/m, and the force on each main bolt is F=T/4mR.