When rigid coupling is used, the error of the axis alignment of the two shafts to be connected should be minimized. In order to reduce the influence of additional load on the coupling, the distance between the coupling and the bearing should be minimized. Rigid coupling (also known as flange coupling) is a rigid coupling that uses bolts to connect, and the two half couplings are connected to the two shafts with keys to realize the connection of the two shafts and transmit torque and motion. The rigid coupling has simple structure, convenient manufacture, low cost, reliable operation, easy assembly, disassembly and maintenance, large transmission torque, and can ensure high centering accuracy of the two shafts. It is generally used for stable load and high speed. Or shaft transmission with higher transmission accuracy requirements.
Rigid couplings are also known as fixed rigid couplings in the past, including flange couplings, radial key flange couplings, open shaft couplings, jacket couplings, sleeve couplings Wait. Rigid couplings are generally simple in structure and low in manufacturing cost. Rigid couplings are composed of rigid force-transmitting parts, and the coupling parts cannot move relative to each other, so they do not have the ability to compensate for the relative offset of the two axes. When there is no relative offset between the two shafts, the rigid coupling has no elastic elements, and does not have the functions of vibration reduction and buffering. Generally, it is only suitable for working conditions with stable load and no impact vibration. The flange coupling does not have radial, axial and angular compensation performance. If the alignment accuracy of the two shafts to be connected cannot be guaranteed during use, the service life, transmission accuracy and transmission efficiency of the rigid coupling will be reduced. cause vibration and noise. According to the size of the transmission torque, all bolts on the rigid coupling can be all bolts for reaming holes, or half of them are bolts for reaming holes, and the other half are ordinary bolts.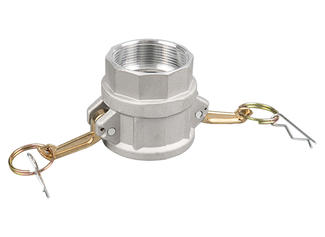 Ningbo Chili Hardware Co., Ltd.
 is a professional 
China Universal Couplings Manufacturers
 and 
Universal Couplings Factory
. our company located in Hangzhou Bay , Cixi city, Zhejiang Province. The traffic is very convenient,We are near to Ningbo and Shanghai port.Only 100 kilometers to Ningbo port and 120 kilometers to Shanghai port. Our products contain Camlock Coupling, Storz Coupling, Air Hose Couplings, Pin Lug Coupling, Combination Nipple, Universal Coupling, Whipcheck Safety Cable ,Bauer Coupling,Hose Clamp. The materials are mainly made of Stainless steel, Aluminium, Brass, Carbon steel,PP, Nylon.They are widely used in petro, chemical, mining, firefighting, agriculture and water conservancy industry. Because of good quality and reasonable price, our 
Wholesale Universal Couplings
 are exported to North America, Australia, Europe,South Africa,Southeast Asia and Middle East.