Aluminium Camlock Coupling
types mainly include elastic coupling and rigid coupling. There are many elastic couplings used in the market, and elastic couplings are divided into metal elastic couplings and non-metallic elastic couplings.
Elastomeric Couplings contain an elastomeric compound with pre-compressed rubber for extra strength and extended life. This coupling can accommodate all types of misalignment. The wheel hub is made of high-strength aluminum alloy, which is light and corrosion-resistant. The rubber component is mainly used for shock absorption, smooth and quiet power transmission, thus protecting the driving force and driving the machine.
Easy installation, since the rubber part is a split insert, it can be plug-in installation after shaft alignment.
Elastomeric couplings utilize parallel or helical grooving systems to accommodate various misalignments and precisely transmit torque. Elastic couplings usually have good performance and price advantages. In many practical applications of stepping and servo systems, elastic couplings are the first choice. The one-piece design enables the elastic coupling to transmit torque with zero backlash and maintenance-free advantages. There are two basic series of elastic couplings: helical groove type and parallel groove type.
Couplings are also called couplings. A mechanical component used to firmly connect the driving shaft and the driven shaft in different mechanisms to rotate together and transmit motion and torque. Sometimes it is also used to connect shafts and other parts (such as gears, pulleys, etc.). It is usually composed of two halves, which are respectively connected by keys or tight fittings, and are fastened at the ends of the two shafts, and then the two halves are connected in some way. The coupling can also compensate for the offset (including axial offset, radial offset, angular offset or comprehensive offset) between the two shafts due to inaccurate manufacturing and installation, deformation during operation or thermal expansion, etc. ; and shock mitigation and vibration absorption.
Most of the commonly used couplings have been standardized or standardized. Generally, it is only necessary to correctly select the type of the coupling and determine the type and size of the coupling. When necessary, the load capacity can be checked and calculated for its vulnerable weak links; when the rotation speed is high, the centrifugal force of the outer edge and the deformation of the elastic element can be checked, and the balance check can be carried out.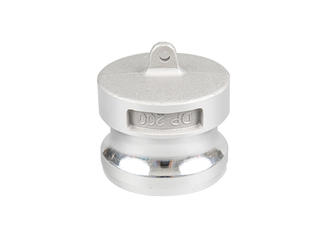 Ningbo Chili Hardware Co., Ltd.
is a professional
China Aluminium Camlock Coupling Manufacturers
and
Aluminium Camlock Coupling Factory
. our company located in Hangzhou Bay , Cixi city, Zhejiang Province. The traffic is very convenient,We are near to Ningbo and Shanghai port.Only 100 kilometers to Ningbo port and 120 kilometers to Shanghai port. Our products contain Camlock Coupling, Storz Coupling, Air Hose Couplings, Pin Lug Coupling, Combination Nipple, Universal Coupling, Whipcheck Safety Cable ,Bauer Coupling,Hose Clamp. The materials are mainly made of Stainless steel, Aluminium, Brass, Carbon steel,PP, Nylon.They are widely used in petro, chemical, mining, firefighting, agriculture and water conservancy industry. Because of good quality and reasonable price, our
Wholesale Aluminium Camlock Coupling
are exported to North America, Australia, Europe,South Africa,Southeast Asia and Middle East.