Diaphragm Couplings This feature is a bit like a bellows coupling, but in fact couplings transfer torque in a similar way. The diaphragm itself is thin, so it flexes easily when relative displacement loads occur, so it can tolerate up to 1.5 degrees of deflection while producing low bearing loads in the servo system. Diaphragm couplings are often used in servo systems. Diaphragms have good torque rigidity, but they are still slightly inferior to bellows couplings. Diaphragm couplings, on the other hand, are very delicate and can be easily damaged if misused in use or not installed correctly. Diaphragm couplings are fast and easy to record, so it is very necessary to ensure that the deviation is within the bearing range of the normal operation of the coupling. Selecting a suitable coupling is a key step in using the coupling well. In the design stage, it is necessary to consider what type of coupling to choose.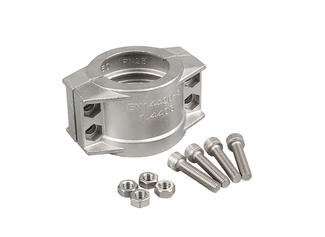 Compared with the gear coupling, the diaphragm coupling has no relative sliding, does not need lubrication, sealing, no noise, basically does not need maintenance, is easy to manufacture, and can partially replace the gear coupling. Diaphragm couplings have been widely used in industrialized countries in the world. In my country, machinery industry standards have been formulated, and new industry standards have been revised: JB/T 9147-1999 (replacing ZB/T J19022-90) relationship between torques.
Ningbo Chili Hardware Co., Ltd.
 is a professional 
China Universal Couplings Manufacturers
 and 
Universal Couplings Factory
. our company located in Hangzhou Bay , Cixi city, Zhejiang Province. The traffic is very convenient,We are near to Ningbo and Shanghai port.Only 100 kilometers to Ningbo port and 120 kilometers to Shanghai port. Our products contain Camlock Coupling, Storz Coupling, Air Hose Couplings, Pin Lug Coupling, Combination Nipple, Universal Coupling, Whipcheck Safety Cable ,Bauer Coupling,Hose Clamp. The materials are mainly made of Stainless steel, Aluminium, Brass, Carbon steel,PP, Nylon.They are widely used in petro, chemical, mining, firefighting, agriculture and water conservancy industry. Because of good quality and reasonable price, our 
Wholesale Universal Couplings
 are exported to North America, Australia, Europe,South Africa,Southeast Asia and Middle East.