Couplings are mechanical components used to firmly connect the driving shaft and the driven shaft in different mechanisms to rotate together and transmit motion and torque. Sometimes it is also used to connect shafts and other parts (such as gears, pulleys, etc.). It is often composed of two halves, which are respectively connected by keys or tight fittings, and are fastened at the ends of the two shafts, and then the two halves are connected in some way. The coupling can also compensate for the offset (including axial offset, radial offset, angular offset or comprehensive offset) between the two shafts due to inaccurate manufacturing and installation, deformation during operation or thermal expansion, etc. ; and shock mitigation and vibration absorption.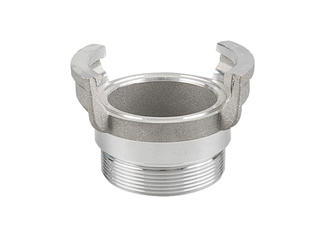 Xierke Industrial Control Equipment (Shanghai) Co., Ltd. specializes in purchasing German industrial control products, instruments and spare parts. The company supplies the 511251 coupling for PAULSTRA, the US headquarters and technical center of PAULSTRA in Grand Rapids, Michigan. Products include flexible couplings, anti-vibration seats, flexible bushings, and the products are widely used in industrial, marine, vehicle and other industries. The idea here is to formulate and conceptual design and prototype development, testing and implementation. Educating and training employees and customers is a high priority list. The Technology Center in Grand Rapids provides NVH applied research and access to Paulstra's expansive global network of industry experts and research and development technologies.
Ningbo Chili Hardware Co., Ltd.
 is a professional 
China Universal Couplings Manufacturers
 and 
Universal Couplings Factory
. our company located in Hangzhou Bay , Cixi city, Zhejiang Province. The traffic is very convenient,We are near to Ningbo and Shanghai port.Only 100 kilometers to Ningbo port and 120 kilometers to Shanghai port. Our products contain Camlock Coupling, Storz Coupling, Air Hose Couplings, Pin Lug Coupling, Combination Nipple, Universal Coupling, Whipcheck Safety Cable ,Bauer Coupling,Hose Clamp. The materials are mainly made of Stainless steel, Aluminium, Brass, Carbon steel,PP, Nylon.They are widely used in petro, chemical, mining, firefighting, agriculture and water conservancy industry. Because of good quality and reasonable price, our 
Wholesale Universal Couplings
 are exported to North America, Australia, Europe,South Africa,Southeast Asia and Middle East.