A hose clamp, also known as a hose clip or hose clip clamp, is a device used to attach and seal a hose onto a fitting, such as a barb or nipple. Hose clamps are designed to hold a hose onto a fitting securely, and to prevent the hose from coming off or leaking at the connection. Hose clamps are commonly used in a variety of applications, including automotive, industrial, and plumbing.
Hose clamps are typically made of metal or plastic, and are available in a range of sizes to fit different hose and fitting diameters. They are often tightened using a screw or bolt, which allows them to be tightened or loosened as needed. Some hose clamps also have a locking mechanism, such as a key or locknut, to prevent them from being accidentally loosened or removed.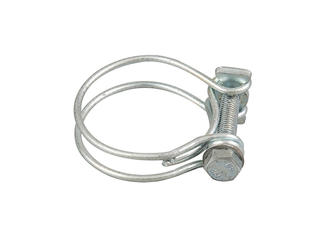 In automotive and industrial applications, hose clamps are used to secure hoses that carry fluids, such as oil, water, or air. In plumbing applications, hose clamps are used to secure hoses that carry water or other fluids to appliances, such as washing machines, dishwashers, and water heaters. Hose clamps are also used in a variety of other applications, such as securing hoses in gardens and on boats.

Ningbo Chili Hardware Co., Ltd. is a professional China Hose Clamps Manufacturers and Hose Clamps Factory. our company located in Hangzhou Bay , Cixi city, Zhejiang Province. The traffic is very convenient,We are near to Ningbo and Shanghai port.Only 100 kilometers to Ningbo port and 120 kilometers to Shanghai port. Our products contain Camlock Coupling, Storz Coupling, Air Hose Couplings, Pin Lug Coupling, Combination Nipple, Universal Coupling, Whipcheck Safety Cable ,Bauer Coupling,Hose Clamp. The materials are mainly made of Stainless steel, Aluminium, Brass, Carbon steel,PP, Nylon.They are widely used in petro, chemical, mining, firefighting, agriculture and water conservancy industry. Because of good quality and reasonable price, our Wholesale Hose Clamps are exported to North America, Australia, Europe,South Africa,Southeast Asia and Middle East.