1. At present, the main materials of the coupling are: 45# steel, 40CrMo, stainless steel, cast steel, cast iron, aluminum alloy, etc.
2. The most commonly used material is 45# steel, which is used for plum blossom couplings, star couplings, roller chain couplings and tire type couplings; better materials include 40Cr, 40CrM, film Sheet couplings and expansion sleeves are generally made of this material; in addition, some couplings have low requirements for use, so the materials used are slightly worse, such as flange couplings and shell couplings, cast iron or cast steel.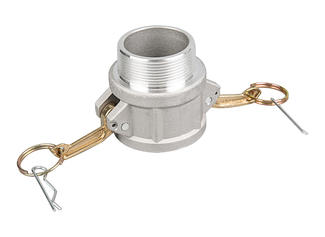 Ningbo Chili Hardware Co., Ltd. is a professional China Universal Couplings Manufacturers and Universal Couplings Factory. our company located in Hangzhou Bay , Cixi city, Zhejiang Province. The traffic is very convenient,We are near to Ningbo and Shanghai port.Only 100 kilometers to Ningbo port and 120 kilometers to Shanghai port. Our products contain Camlock Coupling, Storz Coupling, Air Hose Couplings, Pin Lug Coupling, Combination Nipple, Universal Coupling, Whipcheck Safety Cable ,Bauer Coupling,Hose Clamp. The materials are mainly made of Stainless steel, Aluminium, Brass, Carbon steel,PP, Nylon.They are widely used in petro, chemical, mining, firefighting, agriculture and water conservancy industry. Because of good quality and reasonable price, our Wholesale Universal Couplings are exported to North America, Australia, Europe,South Africa,Southeast Asia and Middle East.